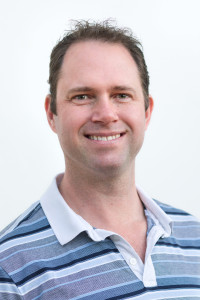 Hi there, I am Dr. Richard Shacksnovis. I am originally from South Africa and in 2015 I arrived in Melbourne with my wife Gisela. After being raised by parents in the medical field with my father a surgeon and mother a nurse and sibling an anaesthetist, I knew the healthcare profession was the field I was destined to be in. I graduated as a chiropractor from the Durban University of Technology in 2005 and I had been in practice in the beautiful city of Cape Town for the last 10 years working in a busy and happy multi-disciplinary clinic.
In my spare time, I enjoy spending time with my wife, relaxing on some trail with my Mountain bike or learning more about the footy as I am traditionally from a rugby union country.
Starting a new practice in any part of the world can be a daunting experience, but here we are. Starting from scratch has given us the opportunity to add fresh perspectives to the treatments and care we give patients.  I am passionate about helping you and your family achieve optimal health and wellbeing so that you can live a healthy and happy life.
I strongly believe that injuries are not only possible from isolated conditions and I pride my consultations on the delivery of holistic health care tailored to each individual after a thorough functional assessment. In order to achieve optimal results for patients I implement a variety of techniques as a chiropractor in order to help attain the best results. I incorporate Proprioceptive Muscle Testing, NIP, nutritional testing as well as Thompson drop piece and activator methods in conjunction with soft tissue work. I also focus on correcting dysfunction within the immune, digestive and hormonal systems with lifestyle advice. I enjoy the challenges of encountering such a diverse population here in Melbourne. Overall I aim to instil my passion for healthcare and well-being in every person I encounter to lead them to a better quality of living.
Below you can view a short video where Dr. Richard explains why he became a chiropractor.